Hi guys,
In the discussion with some of you before I came across this board: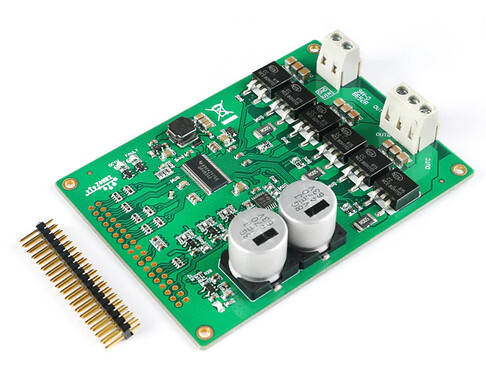 Aliexpress link
It costs 35$ on Aliexpress and it is supposed to handle up to 15 amps continuously. I have ordered it and it looks very good actually. Here is a comparison in size with the STM32 Bluepill and the Arduino SimpleFOCShield

Features:
5.5V-45Vdc, output rated drive current 15A (no radiator installed at room temperature).
On-board three-phase external current amplifier circuit with a gain of 12.22 and a full-amplitude current of ±27A.
Onboard three opposite electromotive force sampling circuit and power sampling circuit, the signal attenuation ratio is 5.1/73.1.
Optional three-phase differential current amplifier reference level for connection to 5V or other level systems.
Reserved and equipped with the DRV8302 internal dual amplifier output.
Three external current differential amplifiers support ST FOC library applications.
Support BLDC non-inductive brushless motor drive application development.
I am thinking of extending the SimpleFOClibrary functionality to support this kind of board (and similar types of BLDC drivers).
I would like to hear your impressions about this board, and especially if someone used it before.
Also it would be super interesting to hear about the potential applications you guys have in mind for this kind of board and what would the SimpleFOClibrary need to include to make it happen.
I am looking forward to hearing from you!