I've developed a board to drive a budget (~$15) robotic servo a friend found on aliexpress.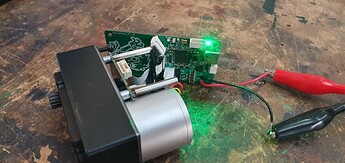 It's electronically functional able to drive the motor, read back from the second magnetic encoder and USB is working.
The repo is here #TODO and assembled by JLCPCB it cost ~$20.
It's powered by a STSPIN32G4 and the actual power electronics fits in a 35x35mm box should support at least 10A at 24V.
Still a wide range of tweaks need
The motor seems slow
The CAN needs testing
A position controller using the second encoder.
Need to build a case for it.
The FFC connector is twisted.
Get current sense working.
USB bootload
Choose a power connector
ETC
If I can get the USB bootloader working and put it in a nice case it could be quite nice~$40 power servo. Feels like it might have a bit too much reducing for good torque sensing for a quadruped robot and hopefully it doesn't disappear too quickly