Hello all!
After a while, we are announcing a Beta version of the SimpleFOC PowerShield-D.
D stands for [D]iscrete Power Shield, currently designed to work on Arduino UNO footprint pinout.
The shield is sized for 30A peak power. Features:
Overvoltage / ESD protection
Reverse voltage protection.
Buck converter with chained 5V and 3.3V for powering external components as well as the Arduino shield to form a standalone module.
Discrete drivers and MOSFETs
In-line current hall-based sensors with inherent galvanic isolation.
Pinouts current sensing, and pull-downs for I2C and hall sensors.
Demonstration open loop:
Low power 4 pole inrunner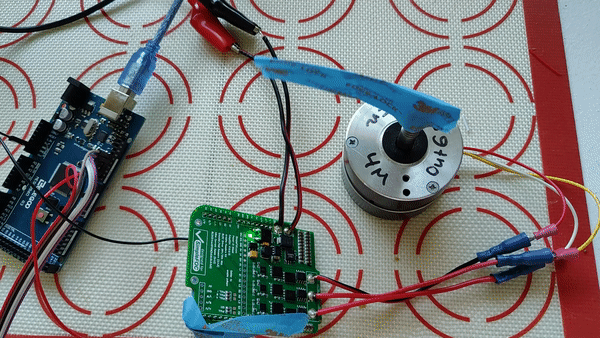 High power E-Bike outrunner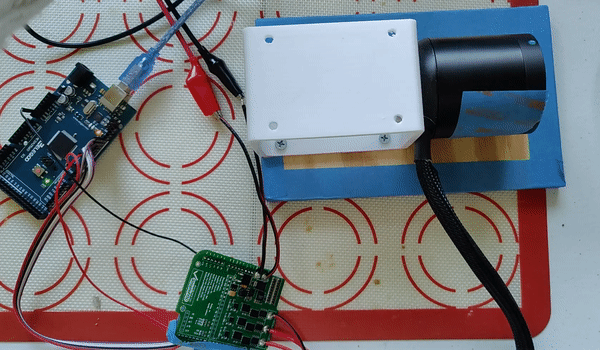 Hoverboard outrunner
I will post later here in the same thread destructive testing as well as test the current sense.
Current sensing looks pretty awesome, nicely centered around 1.15 V on all three channels.
The 30A sensor was out of stock so this test board was fabbed with I believe 20A sensor (or 10A I don't remember?), this is the waveform on one of the channels for about 1A current. Peak-to-peak is 500mV, offset 1.15V.
This above is the hoverboard motor current sensing. Wow, the current and torque are so high I cannot stop the motor with bare hands. I believe this board would perform best / most efficiently with motors in the hoverboard range of about 1 to 2ohm and PWM of about 15kHz.
Thermals:
Low power gimbal: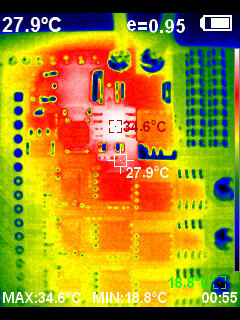 High power hoverboard: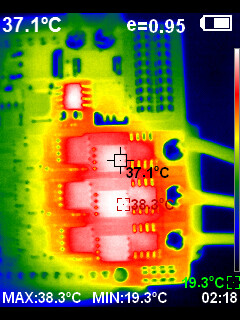 When I'm running the E-Bike motor it got very hot so I'll attach a heatsink, reprogram the frequency down to 15k and re-take the thermal test, I don't want to destroy the board yet.
@Antun_Skuric and @runger , please follow up.
Most important, the cost to fab this makes it pretty affordable. The shield was designed to be low cost. I believe at the moment the cost is about $15 per board for a small batch.
Stay tuned for destructive testing! I will try to make a video of the board going boom.
Cheers,
Valentine