Hi!
I know this topic is not implemented in SimpleFOC right now, but I want to read the BEMF from this DRV8302 aliexpress module that some people are using … this module is even in an example here with SimpleFOC. I want to use my motor in a sensorless way.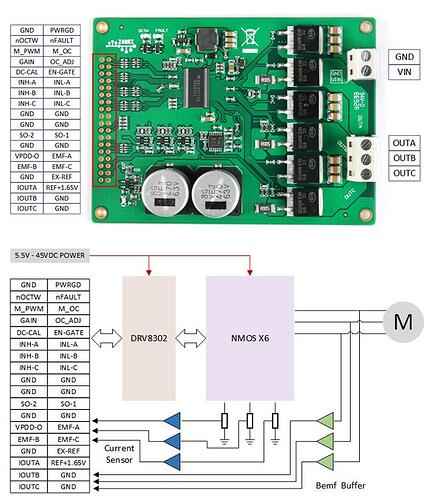 I know this board outputs three buffered BEMF signals (A,B and C), through a 68k/5.1k voltage divider.
Schematics here:
But to be able to read it and perform the commutation sequence, I need to find the zero crossing of each phase. So I need to compare each BEMF to a virtual neutral point between all the phases.
In this particular board, this "virtual neutral" doesn't exist as an output pin, right out of the box, correct?
If not, I could add three resistors wired in each phase. Each with one pin in one phase and the other pin common to all of them, right? And add a comparator to each phase with this virtual neutral. Something like this:
As the BEMF outputs signals in this board are buffered and through a voltage divider, could I create this virtual neutral after the outputs of the opamp that buffers the voltage? It's the MCP6004, in the schematics. It would make the wiring easier…
And not related to that (or is it?), what's the purpose of the VPDD-OUT pin on this board?
It's the VIN full voltage (PVDD in the schematics) through the same voltage divider (68k/5.1k) and through the same voltage follower that the BEMF signals are sent.
Thanks a lot, and sorry if this is off-topic. I just couldn't find some more information on this particular board elsewhere than here…
Rodrigo