I'm trying to understand FOC on BLDC motors and I'm hitting a roadblock.
Suppose I take a 3 phase BLDC with concentrated field windings. If I run a constant DC current through one of the coils, I will get a square wave shape magnetic field spatially around the air gap - not a sinusoid. The same story holds for the other two coils, but with electrical angle offset of 2PI/3 and 4PI/3 respectively.
Consider if I run the same current through coils A (blue) and B (yellow) independently and try to determine the net field using phasors.


The two phasors and their sum are pictured here.


This diagram would suggest that the net field would be the gray curve, which is the blue curve shifted by a PI/3 phase.

However, the net magnetic field generated by the stator will be the sum of the individual waves pictured and actually looks like this.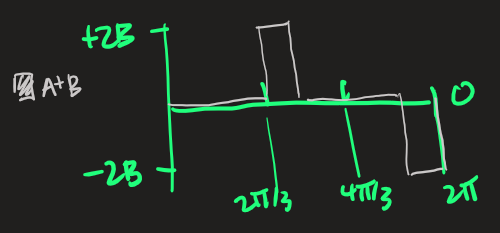 So the sum of phasors (gray) does not represent the sum of the fields (blue and yellow) when the waves are square. In fact, it's unclear what quantity the phasor sum is supposed to mean. But the point of FOC is to arrange the state of the currents so that the sum of the phasors has a certain angle, under the assumption that the phasor sum represents the underlying field. Am I missing something?