Hello everyone,
I am currently facing to an issue related to a custom board I have designed similar to the simpleFOC Shield v2.0.4.
I am using a STM32F411CUE to drive up to 4 motors, but first I am only focusing on one. I have defined my phases and current input that way:
#define M1_IN1           PB_1
#define M1_IN2           PB_2
#define M1_IN3           PB_3

#define M1_CURRENT_I1         PA_0
#define M1_CURRENT_I2         PA_1

BLDCMotor motor_M1 = BLDCMotor(7);
InlineCurrentSense current_sense_M1 = InlineCurrentSense(0.01, 50, M1_CURRENT_I1, M1_CURRENT_I2); // Not measuring C // Adapted for NUCLEO
BLDCDriver3PWM driver_M1 = BLDCDriver3PWM(M1_IN1, M1_IN2, M1_IN3); // A-B-C

The problem is that I always get an error message that says "Init not possible, driver not initialized" and this is connected to the previous error "STM32-DRV: ERR: no timer on pin 18".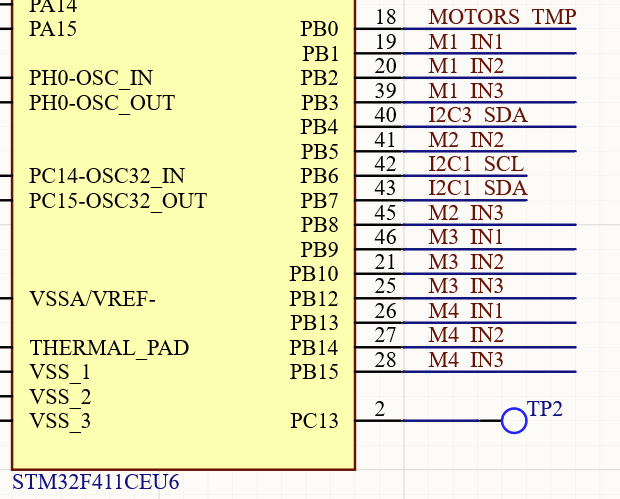 Why I am getting this ? Could it be an hardware issue and what the timer has to do with pin 18 since I don't use it for this motor ?
Thanks a lot for your help !
Best