Hi, check this out.
I get this output in my Serial Monitor every time.

If my sensor is in fact not aligning and this is why Init FOC fails, I'm expecting something like this: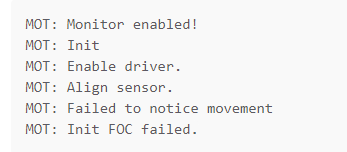 Maybe there's a way to disable the ---Terminal on COM20...Ctrl+H block from popping up. Would be funny if the four missing MOT: ... lines were hidden behind the four lines of the block, haha!
Otherwise, what could be the issue? Anybody know?