Good Day,
I am using the B-G431B-ESC1 to power a Hub Motor with 15 Pp.
So far everything works fine. Everything works fine in open and in closed loop. Just finished PID tuning.
Now comes my question. I tried to get a analogRead of the onboard potentiometer, but no success. I thought maybe it's a pwm-signal, so i tried to get something via the pulseIn() function, Still nothing, the output in the serial is a constant 0 for both methods. Than I thought, maybe my pin mapping is wrong, because I also tried to get an analog read of the temperature sensor.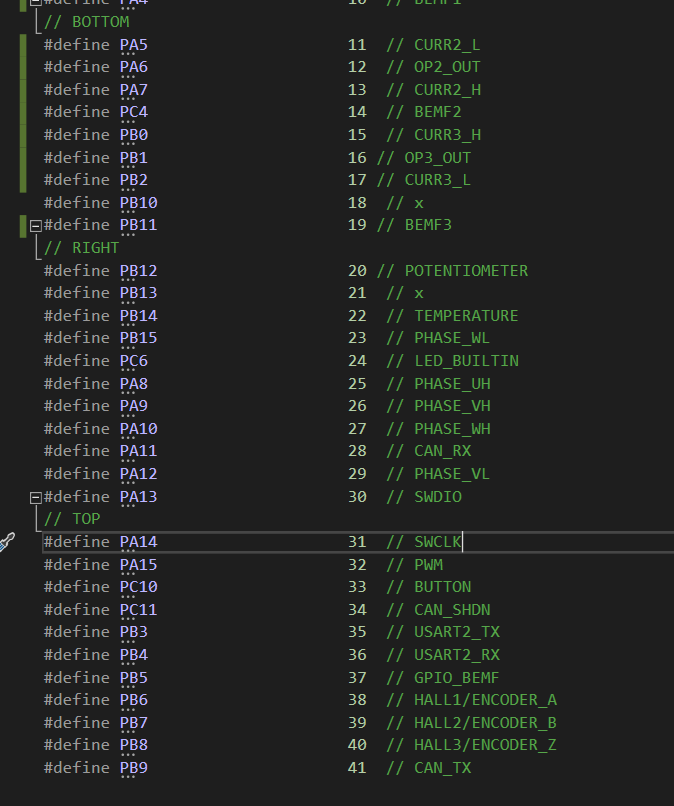 Do I have to use a function of the lib to get it working?
I need a way to control the motor externally. Therefore a analog pin or pwm pin would be great.
While I am here, can someone give me a link on how to setup the current sensoring or even better, how to setup and use the torque mode.
Don't laugh at my code, I am a newby. xD
#include <SimpleFOC.h>
#include <Arduino.h>


float target = 5;
float speed = 2;
bool direction = false;
unsigned long previousMillis = 0, currentMillis = 0;

//  BLDCMotor( pole_pairs )
BLDCMotor motor = BLDCMotor(15);
//  BLDCDriver( pin_pwmA, pin_pwmB, pin_pwmC, enable (optional) )
BLDCDriver6PWM driver = BLDCDriver6PWM(A_PHASE_UH, A_PHASE_UL, A_PHASE_VH, A_PHASE_VL, A_PHASE_WH, A_PHASE_WL, true);

HallSensor sensor = HallSensor(A_HALL1, A_HALL2, A_HALL3, 15);




// Interrupt routine initialisation
void doA() { sensor.handleA(); }
void doB() { sensor.handleB(); } 
void doC() { sensor.handleC(); }


void serialLoop() {
	// This function is used to handle the inputs in the Serial window
	static String received_chars;

	while (Serial.available()) {
		char inChar = (char)Serial.read();
		received_chars += inChar;
		if (inChar == '\n') {
			target = received_chars.toFloat();
			Serial.print("Target = "); Serial.println(target);
			received_chars = "";
		}
	}
}

void Draw_Hall_Sensors(){
	//This function is used to controll the Sensorinputs (use the Serial Plotter)
	Serial.print(digitalRead(A_HALL1));
	Serial.print(" ");
	Serial.print(digitalRead(A_HALL2));
	Serial.print(" ");
	Serial.println(digitalRead(A_HALL3));
	}

float Toggle_Delay(float variable, float first_value, float second_value, unsigned long interval_sec) {

	currentMillis = millis();

	if (currentMillis - previousMillis >= interval_sec*1000) {
		previousMillis = currentMillis;
		if (variable == first_value) {
			variable = second_value;
		}
		else {
			variable = first_value;
		}
	}
	return variable;
}



void setup() {

	pinMode(A_POTENTIOMETER,INPUT_ANALOG);


	Serial.begin(115200);
	delay(1000);

	// initialize Sensor
	sensor.init();
	// Set Sensorinput as Interrupt
	sensor.enableInterrupts(doA, doB, doC);


	// power supply voltage [V]		
	driver.voltage_power_supply = 12;
	// initialize driver
	driver.init();
	// link driver to the motor
	motor.linkDriver(&driver);

	// Set the voltage limit for each coil
	motor.voltage_limit = 4; //[V]
	// Set the velocity limit
	motor.velocity_limit = 26; //[rad/s]
	// Set the voltage limit for sensor alignment??
	motor.voltage_sensor_align = 1;

	// Link the Sensor to the Motor, now closed loop
	motor.linkSensor(&sensor);

	// Set the PID values for the controll loop
	motor.PID_velocity.P = 1.0;
	motor.PID_velocity.I = 10;
	motor.PID_velocity.D = 0.0001;
	motor.LPF_velocity.Tf = 0.05;


	// Set control loop type to be used
	motor.controller = MotionControlType::velocity;

	// Set the Serial for monitoring the motor data
	motor.useMonitoring(Serial);

	// initialize motor
	motor.init();
	// initialitze the FOC algorithm
	motor.initFOC(3.14, Direction::CW);

	// Enable Motor and Driver
	motor.enable();
	driver.enable();
}

void loop() {
	/*serialLoop();

	motor.loopFOC();

	speed = Toggle_Delay(speed, 0, 6, 5);
		
	motor.move(speed);


	Serial.print(sensor.getVelocity());
	Serial.print("\t");
	Serial.println(speed);
	*/
	Serial.print(analogRead(A_POTENTIOMETER));
	Serial.print("\t");
	Serial.println(pulseIn(A_POTENTIOMETER,HIGH));

}