Hi @Owen_Williams, many thanks for working on the HALL commutation. I'm also interested in getting the hoverboard motors work with simpleFOC and Arduino Mega. I just received my simpleFOC shields and pulled the dev branch to try the hall examples.
After configuring the solder pads on the board based on all the info Antun provides (red are the selected/set):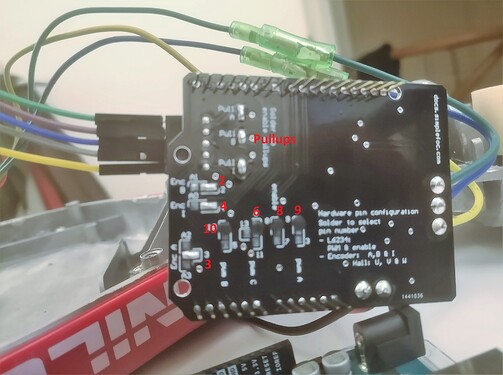 and making the respective adjustments to your velocity_control example (15 pp hub motor). I did not make any changes to the default parameters file.
// motor instance
BLDCMotor motor = BLDCMotor(9, 10, 6, 15, 8);
// hall sensor instance
HallSensor sensor = HallSensor(2, 3, 4, 15);

I'm getting kicking movements but no rotations and the driver heats up instantly (can't touch it) so I turn off the supply and can't do many tests.
When using the torque_control example it does change the torque but holds its position. There is also a high frequency noise.
So, before I get too much into debugging I wanted to check with you if I'm missing something obvious. Maybe this motor needs specific settings in some way?
This is the response I get from the monitor:
MOT: Monitor enabled!
MOT: Init pins.
MOT: PWM config.
MOT: Enable.
MOT: Align sensor.
MOT: natural_direction==CCW
MOT: Absolute zero align.
MOT: Not available!
MOT: Motor ready.
Motor ready.
Set the target velocity using serial terminal:

@Antun_Skuric If there is an easy way to limit the max current at the current loop please let me know, before I melt anything

Any hint will be much appreciated!
Best,
Kostas