I'm wondering what the best form factor is for a BLDC control board. Several (many) people in this forum are working on so many variants fo boards for BLDC control, including myself, and each solution is unique in its own way. I've made a first attempt, and I'm pretty clear on the fact that the result is not yet what I need. I've got lots of ideas where it could go, but I'm not at all clear on which is best, or better said, what the next step should be…
Here's a pic of my first effort, a simple breakout board for the STSPIN233. Amazingly, it works. It does 3PWM, and the driver chip has all kinds of integrated protections, and its integrated MOSFETs handle up to 1.3A RMS, so it will handle most of the gimbal motors nicely. This version of my board has no current sensing. It is however, quite small. That's it next to my finger, and a bluepill (clone) for comparison: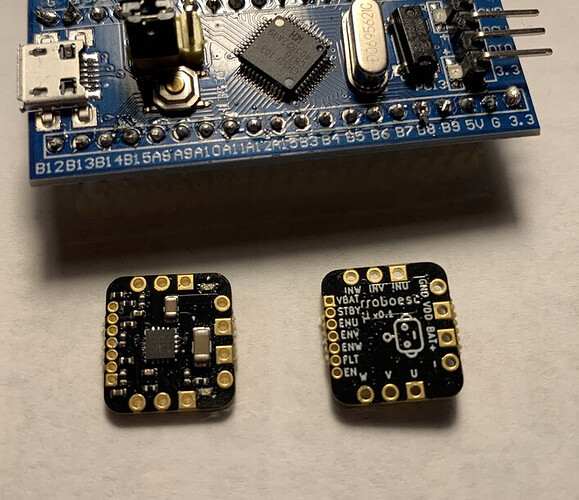 Unfortunately, whlle small, its not that convenient to use. The next version will pay more attention to interfacing with the other components of the overall system, because this solution leads to "a mess of cables".
Some thoughts on this:
the SimpleFOC board is cool, and I look forward to seeing the current sensing version, but for my purposes I must admit it is a bit large, and I don't want to use an original Arduino type board.
I'm also very interested in driving more than one motor, but I am not sure I want each one to have a ESP32 like in the Dagor controller David is working on, nor do I want it tied to a specific MCU form factor like the SimpleFOC board.
it would be nice to drive a wider range of motors, but this definately requires more advanced protection circuitry and current sensing
of course each application is different, and the need to integrate will lead to specific boards for specific use cases.
but for reusable modules, and while testing / integrating solutions into a final build, it could be nice to have some more generic approach.
A generic BLDC module form-factor?
What I am wondering is if there could be something like the Polulu stepper motor modules, but for BLDC. The modules are widely used, also because they have a standard pinout. But on the modules there are a few different driver chips that are used.
What would be the benefit? Well maybe different driver solutions could be tested with different power stages and current sensing modules. Everyone could use the MCU of their choice, just with a simple carrier board that connects the Bluepill (or ESP32, or Arduino Mega, or whatever) to the modules. And when you decide to switch driver during development, you could keep the other parts to reuse…
And the setup would be greatly simplified for newbies if things were a bit more standardized.
What are people using them for?
Another question I have is what everyone is using them for? For me it is to build small to medium robots, which I want to build for fun… so I am more interested in smaller motors, and small form factors for the boards. But this might be quite different for other people?