Hi All,
I'm working on a 3D Printed Robot Arm using the Dagor ESP32 board running SimpleFOC. As you can see in the video I've got it far enough along that I'm testing motion on each of the 6 axes.
My approach for motion on the robot arm is to let the user manually move the arm into the correct position, record it, then move to the next position, record that, etc. Then the user would play back the recorded positions sort of like playing Gcode being sent to a 3D printer. When playing the recorded positions back, I would let them specify any velocity (slower/faster) and I would calculate the acceleration and deceleration for each move.
Does anybody have any algorithm that already does this?
It would seem that others have likely run into this problem. In the world of stepper motors there is a popular library called AccelStepper. There's also the open source Grbl and TinyG code for steppers that do motion planning. Grbl uses trapezoidal planning to keep it simple. TinyG uses S-curve planning for even smoother acceleration/deceleration. Both of those also do motion planning whereby they don't slow all the way down to zero as they head into the next move if the angle of the move is not drastic.
At a minimum, I'd love to just do a simple trapezoidal acceleration/deceleration algorithm inside the SimpleFOC loop like the below graph: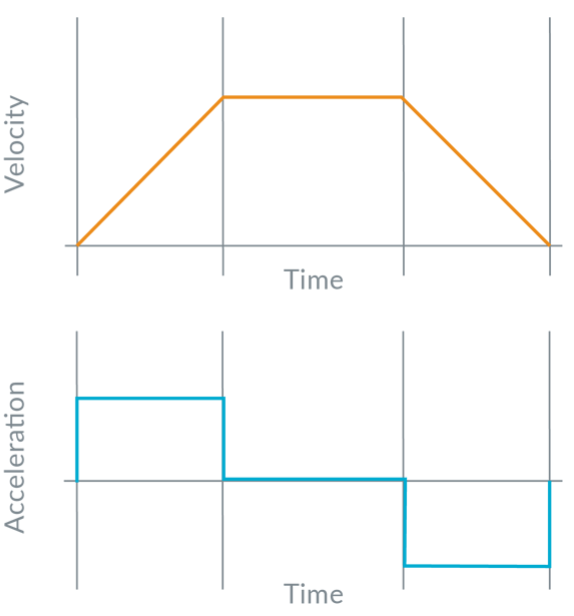 Or it would be nice to get a bit fancier and do more of the S-curve:

This is an example of how TinyG visualizes its jerk acceleration / deceleration. I would LOVE to implement an algorithm like this.