Hello,
I would like to control a BLDC Motor (iPower GM110-8) position wise. As the motor comes with an as5048a I am using it's SPI interface with the SimpleFOCShiled V2.0.3. I have managed to get the project running with an arduino Uno and some tweaks to the angle_control example.
The issue I am facing right now is that the motor tend to deviate from it's position and come back from time to time.
I can also see that while the "motor.shaft_angle" value is stable, the "motor.shaft_velocity" seems noisy: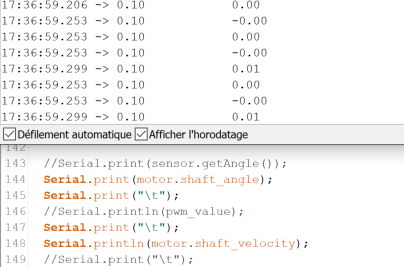 Can this be causing the deviation?
To avoid vibrations I have set the lowpass filtering values as such:
motor.LPF_velocity.Tf = 0.15;
motor.LPF_angle.Tf = 0.002;
Should I put them higher or lower to avoid the deviation?
Thanks and regards,
Papa