Hi all,
Are several weeks that I'm trying to figure out what's wrong with the Iq/Id currents on my project and I'm still not knowing what's wrong with the board or the code.
I have two current sensors one on the phase A and the second on the phase B, the current readed from the sensors seem to be correct (I get some sinewaves) but when I run the simplefoc in torque control with foc_current I can't tune the PID and the Iq and the Id are not dc but a kind of sine.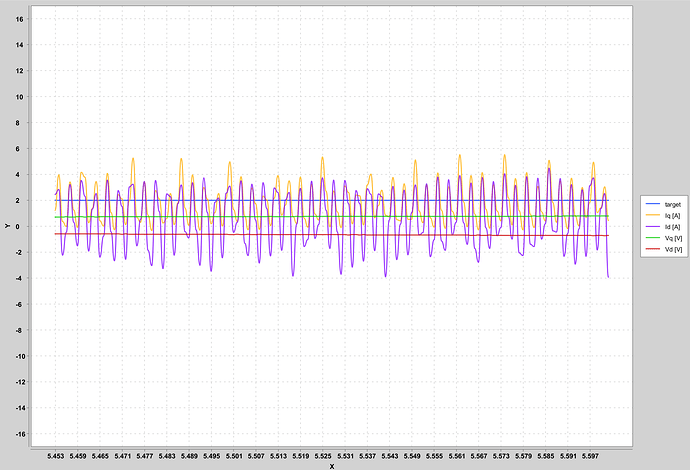 The green and red lines are the Vq and Vd of the current PID (P = 0.001 , I = 0.05 , D = 0). Looking at the PID output (Vq and Vd) I think the PID isn't the problem, there is no oscillation on that part, so maybe is somewhere else the problem. The PID values are too weak (maybe?) but if I increase the P to 0.5 and the I to 0.1 the oscillations on the Iq and Id start going crazy.
When I hold the motor the Iq current reach the target and Id goes to 0.
I'm running simplefoc on a custom board with a stm32G4 mcu running at 164MHz, the shunt resistors are 0.002 ohm and a gain of 50 V/V.
PS: To set and test the PID I leave the motor with no load, is that correct? or I have to load the motor?
Can you help me find the problem and solve it?