Before anything. We truly appreciate all the efforts you guys are putting into this. This community is one of the best I have ever come across.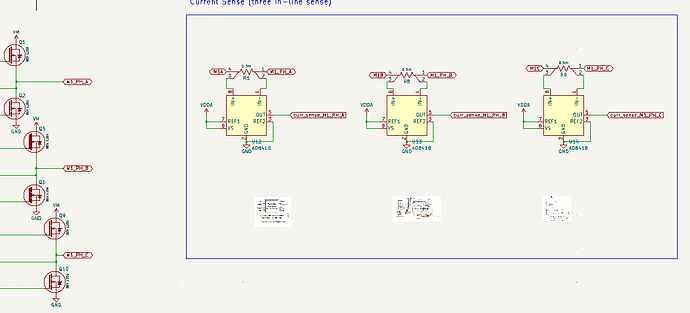 I was trying to get foc_current torque_controller using current sense on my board. It uses the same AD8418 referred here (similar to VESC 6) with a 0.0005 ohm shunt. The start-up sequence of simpleFOC gives me a success 1 for Current Sense and gives the Motor Ready on the Serial Monitor.
However, the motor starts vibrating vehemently and draws too much current. The same board (uses a STM32G473) works great with closed-loop position control (in voltage mode torque control).
I had tried the foc_current mode with the B-G431B-ESC1 on this motor and it worked great.
But not sure why the motor is vibrating in foc_current mode for this other board. Any idea on where I should start troubleshooting?
Below is my code setup:
#include <Arduino.h>
#include "Wire.h"
#include "SPI.h"
#include <SimpleFOC.h>
#include "SimpleFOCDrivers.h"
#include "encoders/stm32hwencoder/STM32HWEncoder.h"


// BLDCMotor motor = BLDCMotor(21, 0.10, 66.67, 0.000022); // this didn't work either
BLDCMotor motor = BLDCMotor(21);
BLDCDriver3PWM driver = BLDCDriver3PWM(PE9, PE11, PE13);
InlineCurrentSense currentSense = InlineCurrentSense(0.0005f, 20.0f, PC3, PA1, PA0);

// Encoder encoder = Encoder(PB5, PB4, 500); //uses software interrupt
STM32HWEncoder encoder = STM32HWEncoder(500, PB5, PB4);

// void doA(){encoder.handleA();} // not used for HardwareEncoder
// void doB(){encoder.handleB();} // not used for HardwareEncoder

Commander command = Commander(Serial);
// void doTarget(char* cmd) { command.scalar(&motor.velocity_limit, cmd); }
void doMotor(char* cmd) { command.motor(&motor, cmd); }

void setup() { 

  encoder.init();
  motor.linkSensor(&encoder);

  driver.voltage_power_supply = 24;
  driver.init();
  motor.linkDriver(&driver);

  // link current sense and the driver
  currentSense.linkDriver(&driver);
  

  // current sensing
  currentSense.init();
  currentSense.skip_align = true;
  currentSense.gain_a *= -1; 
  currentSense.gain_b *= -1;
  currentSense.gain_c *= -1;
  motor.linkCurrentSense(&currentSense);
  // aligning voltage [V]
  motor.voltage_sensor_align = 3;
  // index search velocity [rad/s]
  motor.velocity_index_search = 3;

  // Control loop setup
  motor.controller = MotionControlType::angle;
  motor.torque_controller = TorqueControlType::foc_current;
  // velocity PI controller parameters
  motor.PID_velocity.P = 0.2;
  motor.PID_velocity.I = 20;
  motor.voltage_limit = 8;
  motor.PID_velocity.output_ramp = 1000;
 
  // velocity low pass filtering time constant
  motor.LPF_velocity.Tf = 0.01;

  // angle P controller
  motor.P_angle.P = 20;
  //  maximal velocity of the position control
  motor.current_limit = 6; // Amps
  motor.velocity_limit = 10; 

  Serial.begin(115200);
  command.add('M',doMotor,"motor");
  motor.init();
  motor.initFOC();