Hi everyone,
I'm working on a new board which is basically a merge between a stm32 BluePill board and a SimpleFOC shield, extended with 2 accurate in-line current sensor embedded in a 53mm*53 mm 2 layers PCB: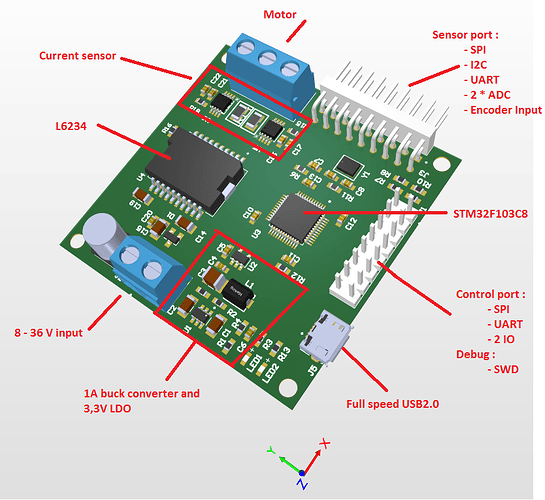 I started the design of this board because I need a true torque controller for a PMSM gimbal motor.
I plan to flash SimpleFOC in the onboard STM32 but I have some questions about the library:
Can someone who have worked on the development of SimpleFOC can explain what environment he use to modify and improve the library please? (If I modify the library I want to be able to make a push request to the library owner)

ST32DUINO is quite limited in my opinion (no use of DMA, no dual ADC support…) how can I add hardware dependent improvement to SimpleFOC without breaking the compatibly of the library with other hardware?

Can I add some custom code based on STM HAL library without have to fork the library?
If you have some question about the board don't hesitate to post your question here, I will try to answer it.
Here is the listing of what I need to add to SimpleFOC for the STM32:
DMA ADC sampling ( as I have inline current sensor on board i want start ADC and DMA as background task for sampling motor current)
Torque Controller
Add an SPI input interface for sending setpoint, loop configuration etc.
High speed UART over USB with DMA (Data monitored will be sent without the help of the CPU)
Best regards